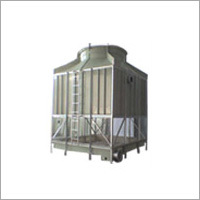 TM Series Cooling Tower
Price And Quantity
Product Specifications
12 Month After Installation
Product Description
For air conditioning and refrigeration, this TM Series Cooling Tower is widely installed in steel, chemical, fertilizer, oxygen and power plants. Being a renowned manufacturer and exporter, we offer this tower to the industries like cement, glass, petrochemicals, automobile, pharmaceutical, rubber and plastic. It is manufactured by using quality approved materials under the strict guidance of our adroit team. According to current industry standards, this TM Series Cooling Tower is tested on various quality parameters before dispatch.
Features:
Lower drift loss
Easy to install and maintain
Resistance against rust
24 Models from 30 TR to 1200 TR in each Cell.
Technical Specifications:

| | | | | | | | | | | | |
| --- | --- | --- | --- | --- | --- | --- | --- | --- | --- | --- | --- |
| New Models | Length | Width | Height (WB) | Height (WOB) | Inlet size | Outlet size | Make Up | Over flow | Drain | Operating weight (wb) | Operating weight (WOB) |
| TM63 | 1325 | 1325 | 3500 | 3300 | 100 | 100 | 25 | 50 | 50 | 900 | 600 |
| TM72 | 1325 | 1325 | 3000 | 3800 | 100 | 100 | 25 | 50 | 50 | 1000 | 620 |
| TM81 | 1800 | 1800 | 3400 | 2900 | 100 | 100 | 25 | 50 | 50 | 1700 | 650 |
| TM90 | 1800 | 1800 | 3700 | 3200 | 100 | 100 | 25 | 50 | 50 | 1750 | 700 |
| TM99 | 2050 | 2050 | 3400 | 290 | 150 | 150 | 25 | 50 | 50 | 2050 | 700 |
| TM108 | 2050 | 2050 | 3700 | 3200 | 150 | 150 | 25 | 50 | 50 | 2100 | 720 |
| TM117 | 2550 | 2550 | 3550 | 3050 | 150 | 150 | 25 | 50 | 50 | 3000 | 900 |
| TM126 | 2550 | 2550 | 3850 | 3350 | 150 | 150 | 25 | 50 | 50 | 3100 | 950 |
| TM135 | 2800 | 3050 | 3550 | 3050 | 200 | 200 | 40 | 75 | 75 | 3900 | 1100 |
| TM138 | 2800 | 3050 | 3850 | 3350 | 200 | 200 | 40 | 75 | 75 | 4000 | 1200 |
| TM144 | 3050 | 3550 | 3650 | 3150 | 200 | 200 | 40 | 75 | 75 | 4700 | 1250 |
| TM153 | 3050 | 3550 | 3950 | 3450 | 200 | 200 | 40 | 75 | 75 | 4800 | 1350 |
| TM162 | 3550 | 3550 | 3650 | 3150 | 200 | 200 | 40 | 75 | 75 | 5500 | 1400 |
| TM171 | 3550 | 3550 | 3950 | 3450 | 200 | 200 | 40 | 75 | 75 | 5600 | 1500 |
| TM180 | 4050 | 4050 | 4050 | 3550 | 250 | 250 | 40 | 75 | 75 | 7100 | 1850 |
| TM189 | 4050 | 4050 | 4350 | 3850 | 250 | 250 | 40 | 75 | 75 | 7300 | 2050 |
Trade Information
Per Day

Contact us for information regarding our sample policy